Doug Routley was born on May 9, 1961 in New Westminster, BC and grew up in Duncan, BC. Doug is an Island boy who understands the unique challenges and opportunities of life in the region and his diverse experience gives him a very close and practical grasp of what his constituents care about and how their needs can best be met.
Doug comes from a family of educators and attended the public schools of the Cowichan Valley. He also attended Camosun College before traveling to Japan, where he lived and worked for one year.
Doug's work experience is diverse and gives him a very broad understanding of so many of his constituents' lives and challenges.
Work Experience
Logging
Sawmill worker
Tree planter
Construction
ESL teacher – Japan
Business owner and operator
School custodian
Union rep
School Trustee
MLA Cowichan Ladysmith  2005-2009
MLA Nanaimo-North Cowichan 2009-Present
While in Japan, Doug taught English and studied Sumea, traditional Japanese ink painting. He was a bicycle racer and while training in Japan, met a renowned Japanese bicycle manufacturer. Doug became English teacher to the family of this bicycle manufacturer and was given North American rights to his products.
After his return to Canada, Doug established a bicycle sales and distribution company with a retail bicycle store in Vancouver and a wholesale/distribution chain with dealers throughout Canada and the USA with warehouses in Vancouver, Ontario and California.
Doug is still an avid cyclist, riding average of 1000 km per month. Doug is a member of the BC Masters Cycling Association and races occasionally. In 2012, he also participated in the 140km Ryder Hesje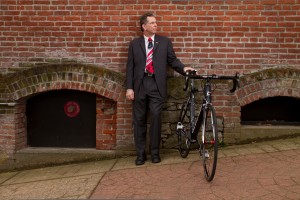 dal Tour de Victoria and the 120km Vancouver-Whistler Gran Fondo. Doug also enjoys track riding. Doug and his partner Leanne can often be seen training on the roads of mid-Vancouver Island.
As a school board employee, Doug worked as a custodian for seven years and then became the elected chairperson of his employee group within the Steelworkers Union. He then successfully ran to become a board member of his union's local executive and was appointed to the Steelworkers national safety committee. Doug is proud of his campaign to bring awareness to the dangers of 15 passenger vans and his role in several contract negotiations.
As a school trustee, Doug was a defender of standards and advocate for improved services to students. He served on numerous. board committees, including the Education Committee, Finance Committee and Bursary and Scholarship Committee
Doug was also a member of the Cowichan Valley Regional District Community Safety Advisory Committee.  As school board representative, Doug participated in community planning and advisories regarding safety, accessability and inclusiveness.
List of Accomplishments
As an MLA, Doug continued his commitment to represent his community's interests in Victoria. Some of his achievements as MLA include:
Co-chair of the Wild Salmon Advisory Council: Along with co-chair Chief Marilyn Slett, of the Heiltsuk First Nation, Doug chaired this 14 member committed whose Recommendations for a Made-in-B.C. Wild Salmon Strategy secured a $105 million federal investment that will be used to help restore wild salmon habitats. You can read their final report and recommendations here
Critic for Housing and Homelessness
Critic for Skills Training and Apprenticeship
Critic for Citizen Services and Open Government, Freedom of Information and Privacy Protection
Deputy Critic of Health
Select Standing Committee on Education: Doug was a member of this committee when it travelled throughout BC consulting with citizens, stakeholders and experts on the issue of adult literacy. The committee heard from a broad range of people about the challenges faced by British Columbians who are challenged by issues of literacy. When the BC Liberal majority on the committee refused to include many of the views that were heard, particularly those critical voices, Doug spearheaded the submission of a minority report.
Select Standing Committee on Health
Special Committee of Review of The Freedom of Information and Privacy Protection Act – Deputy Chair
Doug spearheaded the successful effort to establish Warm Land Place, a multi service, emergency and transitional housing complex in Duncan.
Doug led the community in the nationally profiled struggle to save Cowichan Lodge Seniors Housing facility in Duncan. The effort resulted in the Vancouver Island Health Authority keeping the facility, although transformed to house mental health patients.
Career and Family
Doug lives with his partner, Leanne Finlayson and he has a daughter, Madeline, step-son Matthew and step-daughter Brooklynne. The family enjoy cycling, hiking (with Husky dog Kato), camping and boating together.